If I had to bet money, I'd say 75% of the copy that ends up on my clients' websites and email sequences is born inside my Brand Strategy Deck.
Ohh, a deck, that sounds fancy! Not really. It's just a Google slides deck I fill out for every client during the research phase of our project.
But in this deck, I break down the 5 foundational pillars your brand needs to nail down in order to write true-to-you copy that will convert browsers into buyers. No brand strategy, no copy.
❓But what even is "Brand Strategy?"
Is it an enigma wrapped in a riddle?
Think of a brand like an umbrella and the "strategy" are those triangular segments that make up the whole.
Now, I like a good visual explainer but I love seeing ideas turned into actions, so let's try something a little different…
---
Sign up for the 5-Day Brand Strategy Challenge!
I'll slide into your inbox each morning with a 2-minute video breaking down one of your 5 must-have brand strategy essentials.
(+ plus the prompts I use to help my clients figure out their answers!)
---
Need the incentive to get it done?
At the end of the challenge, you'll receive my BP SIGNATURE ABOUT PAGE PRIMER!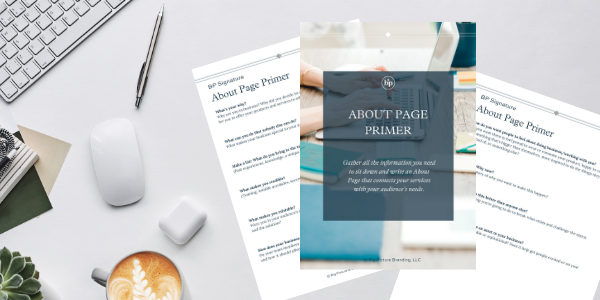 ---
Brand Strategy Micro-Lessons
I ask you, what's a better way to learn a kinda' intangible topic like brand strategy than by breaking it down into 2-minute videos, dripped out over five days like bite-sized pieces of good-for-your-business candy?
Understanding your 5 must-haves will feed you into the primer work. Between the two, you'll have a reference guide you can use to sit down and (re)write your About page in a way that places your services and products on a pedestal, while simultaneously connecting to the reasons your visitors are on your website in the first place.
(All thanks to having your brand strategy in place…thanks brand strategy.)
And heads up, the challenge only goes out Mondays-Fridays so if you sign up on a Tuesday, you won't start the challenge until the following Monday. The idea is that you're building a core facet of your strategy every day, with minimal distraction. (Avoiding that Monday morning, "where was I?" syndrome.)
See you on the other side of the challenge, primer in hand!
---
PIN TO SAVE FOR LATER